Bicyclist Gets Hit By Feed Truck, Then Faces Charges For Manufacturing Methamphetamine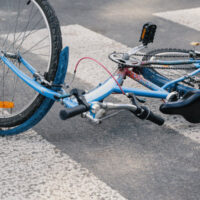 If you get hit by a car while riding your bicycle, you are lucky to walk out of the hospital emergency room and go home.  Accidents where a car strikes a bicycle can have long-term medical and legal consequences, but usually not of the kind that a Sunbury man who got hit by a car while riding his bike in July is currently facing.  Car-on-bike accidents sometimes result in criminal charges for the driver, but they rarely do for the bicyclist.  If you got arrested for a drug-related crime after being involved in a preventable accident, contact a Pennsylvania drug crimes defense lawyer.
Civil and Criminal Cases Resulting from Bicycle Accidents
A collision between a car and a bicycle is much more likely to result in serious injuries to the bicyclist than to the driver.  Likewise, it is much more likely that the driver than the bicyclist will be named as a defendant in a court case resulting from the accident.  The bicyclist can file a personal injury lawsuit against the driver in civil court and seek damages for their accident-related financial losses, such as medical bills.  Because Pennsylvania is a comparative negligence state, the amount the bicyclist can be awarded in the civil lawsuit will be less if the bicyclist was not being cautious, such as by not wearing a helmet or by entering the roadway when they did not have the right of way.  If the driver was behaving extremely carelessly, they might face criminal charges, for example, for reckless driving or DUI.  None of those scenarios explain the circumstances under which the defendant in this week's case got arrested, however.
In the News
On July 18, shortly after dark, Shane Bucher was riding his bicycle on Duke Street in Sunbury, when his bike collided with a tri-axle feed truck.  When police responded to the 911 call, they found that Bucher, 32, had suffered a head injury, but he was conscious and seemed to remember what had happened.  According to an EMT who treated Bucher in the ambulance on the way to the hospital, Bucher asked repeatedly about his backpack and told the EMT that he was under the influence of methamphetamine at the time of the accident.  Meanwhile, police took the backpack to use it as evidence, and they found that it contained batteries, packaging materials, a white pipe, and several substances commonly used in the manufacture of methamphetamine; the Daily Item described the contents of the backpack as a "mobile meth lab."  Police have issued a warrant for Bucher's arrest for manufacture of methamphetamine, risking catastrophe.  As of July 23, he had not been arrested.
Contact an Attorney Today for Help
A Pittsburgh prescription drug charges lawyer can help you if you are facing criminal charges for drug possession, transport, or manufacture, even if you are also dealing with lots of other problems at the same time.  Contact the law offices of Gary E. Gerson for more information.
Source:
dailyitem.com/news/police-sunbury-bicyclist-had-a-mobile-meth-lab-in-backpack/article_cca3f87a-ebcf-11eb-9c37-af84cff2f299.html