Defendant Acquitted Of Aggravated Assault But Convicted Of Simple Assault For Movie Theater Shooting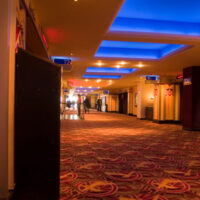 As Pennsylvania reopens, people who have watched all the movie offerings on Netflix during the pandemic are eager to watch movies in the movie theater, even though going to the movies costs the equivalent of a year's Netflix subscription and a panic purchaser's haul worth of microwave popcorn, to say nothing of how you can't just pause the movie for a bathroom break.  For a while in 2021, the news headlines were dominated by mass shootings in public places, with a new one occurring almost every day, almost as if life were returning to a pre-pandemic normal.  Several of those mass shootings in the years before the pandemic took place in movie theaters, which are a terrifying place to hear gunfire, since they are so dark and so crowded.  The movie theater shooting in western Pennsylvania did not result in any deaths or life-threatening injuries, and it was not prosecuted as a hate crime, despite allegations of the defendant's aggression being racially motivated.  If you are facing criminal charges related to gun violence, contact a Pittsburgh violent crimes defense lawyer.
Attempted Murder?  An Accident?  A Hate Crime?
In March 2019, Chris Williams, a 53-year-old prison guard from Waynesburg, attended a screening of the movie Us in Washington County.  During the movie, he got into an argument with six teenaged boys, which led to physical violence and eventually to Williams chasing the teens out of the theater.  Four of them later waited for him in the hallway outside the theater, and Williams, fearing that they would attack him, pulled out his gun.  Williams claims that he never meant to shoot and that he only showed his gun to the teens to scare them away, but the gun discharged, wounding one of the teens in the leg.  As a result of the incident, Williams faced a host of criminal charges, from misdemeanor charges related to fighting and making threats to the felony charge of aggravated assault for shooting the victim and causing non-life-threatening injuries.  While Williams was not prosecuted as though he committed a hate crime, Williams is white, and the six teens he fought with are Black, raising questions of a racial motivation for his actions.
In the News
In May 2021, a jury in Washington County returned a verdict in the case of Chris Williams, the man accused of shooting at a group of teenagers in a movie theater in March 2019 and injuring one of them.  The jury acquitted Williams of the felony charge of aggravated assault and the misdemeanor charge of making terroristic threats.  They convicted him of simple assault, however, for brandishing his gun, apparently agreeing with the defense's interpretation that Williams fired the weapon by accident.  The judge also convicted Williams of summary offenses related to fighting.  The prosecution plans to seek jail time, but this verdict means that Williams is eligible for reinstatement of his job as a corrections officer.
Contact an Attorney for Help
A Pittsburgh violent crimes lawyer can help you if you are accused of using a gun to threaten or injure someone.  Contact the law offices of Gary E. Gerson about your case.
Source:
usnews.com/news/best-states/pennsylvania/articles/2021-05-16/man-acquitted-of-felony-charges-in-pa-movie-theater-shooting