Police Revive Man Who Suffered Accidental Overdose at Pittsburgh Mills Walmart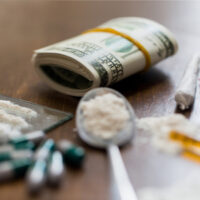 Naloxone, which is also known by the brand name Narcan, can reverse the effects of opioid overdose very quickly.  Since it has become available, many people have survived overdoses that would have otherwise been fatal.  One of the reasons behind Pennsylvania's Good Samaritan law, which protects people who call for medical assistance for overdose victims from being charged with drug crimes themselves is to encourage bystanders to call 911 when someone overdoses.  The chances of the victim surviving are good, and no one will ask if you have drugs in your pocket.  Earlier this month, police used naloxone to revive a man who suffered an accidental overdose while they were trying to arrest him.  If you are facing drug charges, a Pittsburgh drug crimes defense lawyer can help you, no matter the circumstances of your arrest.
Whatever You Do, Don't Swallow Your Stash of Drugs
In your pandemic boredom, you have probably read those "odd news" stories on the Florida Man Times website about defendants in drug cases who attempted to hide the evidence by swallowing large stashes of illegal drugs.  In fact, defendants in drug cases in many states have attempted this.  Not only is this dangerous, but it can also get you additional criminal charges, such as tampering with evidence or resisting arrest.  From a legal standpoint, it is similar to throwing a bag of drugs out of your car window when you see a patrol car flashing its lights to signal you to pull over.
In the News
On March 6, Stacey O'Neal was shopping at the Pittsburgh Mills Walmart with a small child; the TribLive website did not specify the child's age or O'Neal's relationship to the child.  O'Neal scanned his purchases at the self-check-out, but he allegedly left the store without paying for all the purchases in his cart, intentionally failing to scan some of them.  Store employees called the Frazer police when they saw O'Neal, 31, leaving the store with merchandise that he allegedly had not paid for.  When they searched O'Neal, they found a plastic bag containing stamp bags of heroin in one of his pockets.  O'Neal wrestled the bag away from the officer, put it in his mouth, and ran away.  When the officers caught up to O'Neal, he tried to fight them off, but eventually he began sweating profusely and then lost consciousness.  The police were able to revive him with two doses of Narcan.  O'Neal is facing charges for drug possession with intent to distribute, as well as for resisting arrest.  When children in the defendant's care are present at the scene of a drug arrest, the defendants sometimes also face charges for child endangerment, but TribLive did not mention any such charges for O'Neal.
Contact an Attorney Today for Help
A Pittsburgh prescription drug charges lawyer can help you even if the police saw you ingest the drugs right before their eyes.  Contact the law offices of Gary E. Gerson about your case.
Resource:
triblive.com/local/valley-news-dispatch/police-new-kensington-man-became-unresponsive-after-swallowing-heroin-during-arrest/
https://www.pittsburghdefenselawyers.com/allegheny-county-man-drops-stamp-bags-marked-say-hello-to-my-little-friend-while-fleeing-from-police-on-foot/