Doylestown Mom Charged With Harassment for Online Bullying of Daughter's Cheerleading Teammates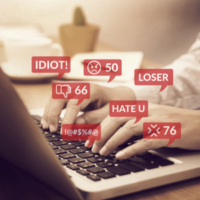 Complaining about the Internet habits of the youth has been a favorite hobby of parents since the mid-90s, when those America Online CDs used to arrive in the mail, and during the pandemic, with kids and parents stuck in the house all day, connected to the outside world only by a Wi-Fi connection, it is one of the few recreational pursuits that parents have left.  Sometimes, though, it isn't the teens who are using the Internet for nefarious purposes.  This week, a Pennsylvania woman made worldwide headlines for alleged acts of cyberbullying so mean and so technologically advanced that many high school students would be incredulous that someone of her generation could implement them, and as a result, she is facing criminal charges for harassment.  No matter your age, if you are facing criminal charges for cyberbullying or online harassment, contact a Pittsburgh Internet crimes defense lawyer.
Are Deepfakes Illegal?
There is a lot of horrible content on the Internet, and the First Amendment protects most of it.  Simply making a deep fake video is not a violation of the law; in fact, deepfakes can be used for plenty of harmless purposes.  They can be a way to show off the skills of humans and machines, and when applied to likenesses of people who lived in a time before audiovisual recording, they can make the past come to life.  When used to spread false and damaging information about living people, though, they are illegal.  The Malicious Deep Fake Prohibition Act of 2018 and the DEEPFAKES Accountability Act are two pieces of federal legislation that have dealt with this issue.  Many websites that permit the posting of deep fake videos require them to be labeled as such.
In the News
Raffaela Spone, 50, of Doylestown is facing three counts of misdemeanor harassment and three counts of harassment of minors for actions she allegedly took to intimidate members of her daughter's high school cheerleading team.  She allegedly created deepfake videos that made it appear that the girls were engaged in activities that could get them kicked off of the cheerleading team, such as drinking alcohol, smoking tobacco from vape devices, and posing in sexually suggestive ways.  A deepfake is a video that has been digitally altered to make it appear to depict someone other than the subject originally filmed; Spone allegedly superimposed images of the cheerleaders' faces on videos of young women engaged in behaviors that violate the school's code of conduct.  She allegedly sent the videos to the girls the videos claim to depict, as well as to the gym where the team practices.  She also allegedly sent bullying text messages to the girls from blocked numbers; in one of the messages, she encouraged the recipient to commit suicide.  A preliminary hearing is scheduled for March 30.
Contact an Attorney Today for Help
A Pittsburgh Internet crimes lawyer can help you if you made or shared deepfakes for fun but someone is accusing you of using them maliciously.  Contact the law offices of Gary E. Gerson about your case.
Resource:
people.com/crime/cheer-mom-allegedly-sent-deepfake-nude-photos-daughter-rival/
https://www.pittsburghdefenselawyers.com/allegheny-county-man-drops-stamp-bags-marked-say-hello-to-my-little-friend-while-fleeing-from-police-on-foot/