Can You Get Into Legal Trouble For Secretly Recording Phone Conversations?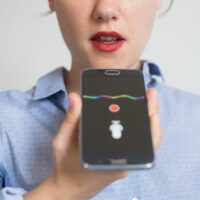 These days, we always keep our eyes on our phones, and they always keep their eyes on us.  Smartphones are so smart that they know you better than you know yourself.  Your phone can help you remember all kinds of things, from your baby's first smile to the items you want to pick up at the grocery store to the password on your Amazon account.  If you can use your phone to converse, and you can use your phone to record, it follows that you can use your phone to record conversations.  Of course, most of the time you should not do this.  Wiretapping, including secret recordings of conversations in which you are a participant, is a felony in Pennsylvania.  If you are facing criminal charges for recording a phone conversation without the knowledge or consent of your conversation partner, contact a Pittsburgh Internet crimes lawyer.
Pennsylvania Requires "All Party Consent" for Recording Communications
Secret recordings are a widespread tactic in criminal investigations, but every state has a law that prohibits wiretapping unless a law enforcement officer specifically instructs you to do it.  The states define illegal wiretapping in different ways; in some states, it is legal to record your own conversation with someone else, but not to use your phone as a fly on the wall when other people are talking to each other.  By contrast, Pennsylvania requires all party consent.  This means that it is not legal for you to record your conversation with someone else unless you have asked for and received permission from all the participants in the conversation.  This rule applies to in-person communication as well as phone calls.
Pennsylvania law considers illegal wiretapping a third-degree felony.  It carries a maximum sentence of seven years in prison and a fine of $15,000.
In the News
Earlier this year, Ashley Thurby-Kolesar, a high school teacher from Uniontown, was arrested for recording a conversation she had with a 15-year-old student, in which he expressed concern about his grades, without the student's knowledge.  Thurby-Kolesar allegedly sent the recording to a 17-year-old student in order to embarrass the student depicted in the recording.  She is also in legal trouble for exchanging thousands of text messages with the 17-year-old student in the context of an inappropriately close personal relationship.
Thurby-Kolesar, 33, waived her right to a preliminary hearing and immediately entered a plea of not guilty.  Her bail was set at $20,000, and she posted the bail money and is now free while awaiting trial.  Defendants who are convicted at trial tend to face harsher sentences than those who plead guilty.  Thurby-Kolesar's case is still pending and, like all defendants in criminal cases, she is presumed innocent until proven guilty.
Contact Gary E. Gerson About Internet Crime Cases
A criminal defense lawyer can represent you in criminal court if you are facing criminal charges for illegal wiretapping or other Internet crimes.  Contact the law offices of Gary E. Gerson in Pittsburgh, Pennsylvania about your case.
Sources:
heraldstandard.com/news/lh-teacher-accused-of-secretly-recording-student-waives-case-to-court/article_b473c7fe-c1ce-11ed-add4-c7258d6f4450.html
legis.state.pa.us/cfdocs/legis/LI/consCheck.cfm?txtType=HTM&ttl=18&div=0&chpt=57