Pittsburgh Man Gets 25 Years In Prison For Attempted Solicitation Of A Minor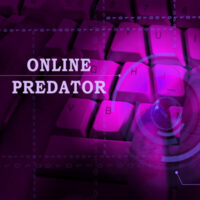 It is possible to explain the occurrence of many Internet crimes by the fact that people think that they are a lot more anonymous online than they are.  Your alter ego can make threats, offer to buy and sell illegal items, and share illegal content on the dark web and even on social media sites that people visit by the light of day, such as when fidgeting with their phones in public places, but it is easier to connect the dots between your pseudonymous online persona and your real self than you might imagine.  Consider OxyMonster, the French man currently serving a prison sentence in Florida for trafficking in counterfeit prescription opioid pills.  Authorities were able to identify him by matching the idiosyncratic mix of French, English, and emojis that he used on the dark web sites where he sold the pills to the similar use of language found on the Facebook and Instagram posts his real self made about his legitimate activities.  Of course, many investigations into Internet crimes when content moderators detect references to illegal activities in messages posted by users.  Then there are the cases where a defendant thinks that he or she is communicating with a kindred spirit, but the interlocutor turns out to be an undercover officer.  Which defense strategy you should use varies according to how authorities gathered evidence of your alleged online crimes.  To figure out the best strategy for your case, contact a Pittsburgh Internet crimes lawyer.
What Are the Penalties for Online Solicitation?
Solicitation, attempts, and conspiracy are inchoate offenses.  By nature, they do not include acts of violence, completed financial transactions, or sexual acts, but rather the unsuccessful pursuit of these acts.  The severity of the penalties for these acts depends on the severity of the acts that the defendant was trying to commit.  In other words, attempted murder carries heavier penalties than attempted burglary.  Likewise, whether the defendant has a prior criminal record can affect the sentence you receive for a conviction for an inchoate offense.
In the News
In 2012, Wayne McNutt was convicted of aggravated indecent assault of a minor.  The Department of Justice website did not indicate whether he received a prison sentence, but by 2021, he was on state probation.  He began exchanging messages online with a person that he believed was the guardian of a minor child.  At some point during the exchange, McNutt requested to meet the child for sexual purposes, and the purported guardian agreed with McNutt on a time and location to meet; McNutt offered to pay for a hotel room for the three of them to stay.  When McNutt arrived at the meetup location, he realized that the person with whom he had been communicating was an undercover police officer.  In 2023, the court sentenced McNutt, who had been convicted of attempted enticement of a minor, to 25 years in prison, followed by a lifetime of supervised release.
Contact Gary E. Gerson About Online Solicitation and Other Internet Crimes
A criminal defense lawyer can help you if you are facing criminal charges for Internet sex crimes.  Contact the law offices of Gary E. Gerson in Pittsburgh, Pennsylvania about your case.
Sources:
justice.gov/usao-wdpa/pr/pittsburgh-man-sentenced-25-years-prison-attempted-enticement-child-sex