Collegeville Electrician Faces Criminal Charges After 64 Homeowners Accuse Him Of Home Contractor Fraud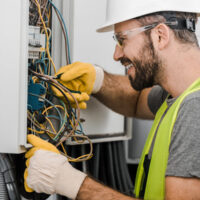 Consumers' spending habits changed in 2020 and 2021 in ways economists never could have predicted.  Journalists have been saying for years that millennials killed the dinner napkin and the table service chain restaurant, but those avocado toast-loving trendsetters who exist only in the imaginations of the authors of clickbait news articles have nothing on how quickly the COVID-19 pandemic dealt the death stroke to business formal clothing, the cineplex, and shared office space.  Meanwhile, people who were fortunate enough to keep their salaried jobs during the pandemic found themselves flush with cash, and, defying all expectations, they either used it to pay down their credit card debt or to make improvements to their houses.  Therefore, business was booming for home contractors.  While many home improvement projects during the pandemic went as planned from start to finish, police also received numerous complaints about home contractors who collected deposits from customers and then never returned to finish the work.  If you are a home contractor and a customer complained to the police about an unfinished project or a dispute over payment, contact a Pittsburgh white collar crime lawyer.
What Is Home Contractor Fraud?
Fraud refers to the act of knowingly making false statements to induce the victim to make financial transactions that will cause the victim to suffer financial losses.  It can include anything from garden variety phishing scams to healthcare fraud, where employees of doctors' offices knowingly present false information on claims that they submit to Medicare, Medicaid, or private insurance companies.  In the context of home improvement projects, fraud can take the form of inflating the costs of labor or materials so that customers pay unfairly high prices, or it can mean collecting payment for projects that you have no intention of completing.
In the News
Joseph Ford, the owner and operator of 1st Call Electric, capitalized on the home improvement boom of the early days of the COVID-19 pandemic.  He is currently facing charges for 64 projects which he did not complete, despite collecting partial payment for them.  The victims each paid Ford between $1,400 and $16,000 for home repairs and electrical generator installations; they claim that, after collecting deposits from the customers, he stopped responding to their communications.  The victims live in Berks, Bucks, Chester, Delaware, Montgomery, and Philadelphia Counties, and there may be additional charges stemming from Lower Bucks County claims where the investigations are still pending.  Ford is facing a long list of criminal charges, including false statements to induce agreement for home improvement, theft by deception, theft by taking, and receipt of stolen property.
Contact Gary E. Gerson About Financial Crime Cases
Disgruntled customers can accuse you of fraud, but you are innocent until proven guilty if you face criminal charges.  A criminal defense lawyer can represent you in criminal court if you are facing charges for home contractor fraud.  Contact the law offices of Gary E. Gerson in Pittsburgh, Pennsylvania about your case.
Source:
levittownnow.com/2023/01/24/electrician-accused-of-contractor-fraud-in-lower-bucks-county-across-southeastern-pa/