Philadelphia Parents Face Child Endangerment Charges After Leaving Young Children Unsupervised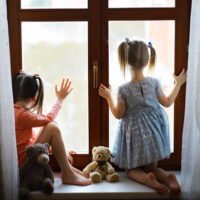 Young children often imagine that staying home alone will be fun and exciting; movies like Home Alone and books like The Cat in the Hat certainly make it look that way.  When kids ask if they can stay home alone, though, parents explain that it is not as much fun as the kids think it is, although this is not a satisfying explanation for children whose minds are full of visions of trying out Dad's aftershave or making a delightful mess while the family goldfish protests in vain.  The parents must then explain that it isn't safe for children to be home alone, but that is not a satisfying answer, either.  The only thing that will make children wait patiently to stay home alone is that if you tell them that you will get in trouble with the police if you leave them unsupervised.  In fact, Pennsylvania law defines child endangerment more broadly than simply leaving children unattended; it includes a wide variety of circumstances where the adults legally responsible for a child fail to provide adequate care and supervision or knowingly expose the child to danger.  If you are facing criminal charges for child endangerment, Pittsburgh criminal defense lawyer.
Pennsylvania Child Endangerment Laws
Pennsylvania law defines child endangerment as when a child's legal guardian, a professional caregiver, or another adult responsible for a child's well-being increases the child's risk of harm by failing to provide adequate supervision.  Leaving young children home alone is just one of the reasons you can get child endangerment charges.  These charges also apply when an adult leaves a child in a room without food or beverages for more than 24 hours.  Child endangerment is a misdemeanor, unless the adult's actions place the child at immediate risk of serious injury or death, in which case it is a felony.
Child endangerment charges often occur in conjunction with drug possession or DUI charges.  It counts as child endangerment if you possess illegal drugs in the presence of a child or if you drive drunk while a child is in the car.
In the News
Police arrested Michele Campbell and Paul Weber after visiting their North Philadelphia home in response to a 911 call from a neighbor about two young children walking around the yard unattended.  When they arrived, they found a five-year-old girl and a three-year-old girl in the backyard with no adults.  When they entered the house, they found a six-year-old boy in a dog cage secured by a zip tie.  A man and a woman in the house identified themselves as the uncle and grandmother of the children and said that Campbell and Weber were also the parents of two older children, who were at school at the time of the 911 phone call.
Contact Gary E. Gerson About Child Endangerment Cases
A criminal defense lawyer can represent you in criminal court if you are facing charges related to endangering the welfare of children.  Contact the law offices of Gary E. Gerson in Pittsburgh, Pennsylvania about your case.
Sources:
legis.state.pa.us/cfdocs/legis/LI/consCheck.cfm?txtType=HTM&ttl=18&div=0&chpt=43&sctn=4&subsctn=0
cbsnews.com/philadelphia/news/parents-charged-after-child-found-locked-in-cage-in-northeast-philadelphia/