What Happens If You Do Not Come Back To Court After Being Released On Bail?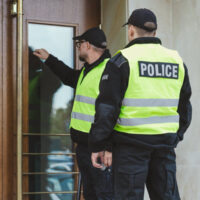 If you get arrested and then released, you have avoided the worst-case scenario, namely being held in jail until your plea hearing or trial.  The best-case scenario is that, after arresting you, the police realize that they have no grounds on which to charge you with a crime, so they simply let you go, and then life goes on as if the arrest had never happened.  In many cases, though, the police will release the defendant from jail, but the defendant must return to court on a given date to hear the charges formally read and to enter a plea.  Cash bail may or may not be a condition of your release.  If you do not show up for your court date, the judge can issue a warrant for your arrest, but if you do show up, your case can have any of various outcomes.  If you are in legal trouble for failing to appear in criminal court as ordered, contact a Pittsburgh criminal defense lawyer.
Bench Warrants and Pennsylvania Law
A warrant is a document issued by a judge giving police the authority to arrest you.  If police provide the court with a detailed statement of your alleged role in a crime, and the judge agrees that there is probable cause to arrest you, the court will issue an arrest warrant, whereby any police officer that comes into contact with you can arrest you.  A bench warrant is similar to an arrest warrant except that a judge issues it not because a police officer's statement about your alleged criminal activity persuaded him to do so but because you disobeyed a court order saying that you had to appear in court.  Most, but not all, bench warrants arise from failure to appear in court for criminal cases.  By contrast, a search warrant gives police the right to search your residence, a right they would not otherwise have. To get a search warrant, police must give the court a statement detailing the evidence they think they will find at your house and the crime they think it indicates.
In the News
Earlier this month, Kenny Pickett of the Pittsburgh Steelers went to the Bowser Chevrolet dealership in Monroeville to make a promotional appearance; he parked his Hyundai Genesis in the parking lot.  While Pickett was inside the dealership, Charles Carter parked his own vehicle at the dealership and proceeded to walk around the parking lot.  Dealership employees saw Carter drive away in Pickett's vehicle and called the police, who eventually arrested Carter at home.  Carter, 60, was supposed to appear in court on June 6 in connection to the case, but he did not, so the judge issued a bench warrant.  Later, Carter was arrested for failing to appear in court.
Contact Gary E. Gerson About Bench Warrants
A criminal defense lawyer can represent you in criminal court if a judge issued a bench warrant for your arrest after you did not appear at a court date.  Contact the law offices of Gary E. Gerson in Pittsburgh, Pennsylvania about your case.
Sources:
post-gazette.com/news/crime-courts/2023/06/05/steelers-kenny-pickett-christopher-carter-arrest-warrant-stolen-car/stories/202306050057
post-gazette.com/news/crime-courts/2023/06/06/kenny-pickett-suv-arrest-christopher-carter-steelers/stories/202306060089