Allegheny County Doctor Sentenced To 78 Months In Prison For Health Care Fraud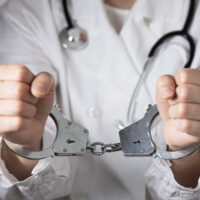 In these tough economic times, almost everyone in western Pennsylvania knows someone who has tried to recruit them to distribute nutritional supplements through a multilevel marketing (MLM) business model.  The products are ordinary vitamin supplements like the ones you can buy much cheaper at Walmart or Costco, but the former classmate who messages you out of the blue on social media tells you that they are a miracle cure for every known ailment.  Since MLMs prey on people's desperation, you can't really blame your former classmate for buying into, and trying to sell, false promises of eternal youth, no matter how much they cost.  Doctors, however, should know better.  When they recruit people to undergo risky, expensive treatments that have not proven appropriate for the patients' health conditions, patients who suffer harm because of it can sue for medical malpractice.  One Allegheny County doctor, however, charged health insurance companies, as well as taxpayer-funded Medicare and Medicaid, a total of $13 million for unnecessary medical treatments.  If you are a healthcare worker facing criminal charges for healthcare fraud, contact a Pittsburgh financial crimes defense lawyer.
When Are False Promises About Wellness a Crime?
External Counter Pulsation (ECP) is a treatment used by cardiologists, in which a patient lies down on a specialized bed, with pressure cuffs attached to their legs, in order to increase blood flow to the heart; while the devices do most of the work by themselves, a doctor must be present to monitor the patient throughout the treatment session.  The only medically approved indication for ECP is a treatment for severe chest pain that results from insufficient blood flow to the heart.  Despite this, Dr. Samirkumar Shah of Fox Chapel promoted ECP as the latest wellness fad, claiming that it could treat conditions ranging from migraine, high blood pressure, and low blood pressure to diabetes, obesity, and erectile dysfunction.  He set up ECP clinics in Pennsylvania and several other states.
In the News
Selling patients an expensive wellness dream was not the only problem with Shah's ECP clinics.  He was often not present during ECP treatments; one patient suffered an adverse event during an ECP session and needed to be transported to the hospital by ambulance.  His criminal charges, however, stemmed from the billing for the questionable ECP services.  Between 2008 and 2013, Shah, 58, billed more than $13 million to Medicare, Medicaid, and two private health insurance companies for ECP treatments and associated testing.  In 2019, Shah was convicted at trial of healthcare fraud.  In August 2021, he was sentenced to 78 months in prison and ordered to pay $1.2 million in restitution.
Reach Out to an Attorney Today
No matter your role in the healthcare profession, a Pittsburgh white collar crime lawyer can help you if you are facing criminal charges for filing fraudulent claims with health insurance companies, Medicare, or Medicaid.  Contact the law offices of Gary E. Gerson for help.
Sources:
justice.gov/usao-wdpa/pr/fox-chapel-cardiologist-convicted-trial-health-care-fraud-involving-more-13-million
justice.gov/usao-wdpa/pr/fox-chapel-cardiologist-sentenced-78-months-prison-health-care-fraud-scheme-involving