Are Non-Fatal Shootings Aggravated Assault or Attempted Murder?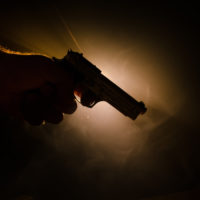 Few things are scarier than when someone fires a gun in a room full of unsuspecting people.  Even when the shooting does not lead to any deaths, the survivors spend the rest of their lives feeling lucky, and perhaps a bit incredulous, that they are still alive.  If someone has pointed a gun in your direction, you never forget that you could have died, but does that mean that all non-fatal gun violence is attempted murder?  According to Pennsylvania law, not everyone who fires a loaded gun toward another person is automatically charged with attempted murder, even if the shooter wounds someone.  Sometimes the shooter is only charged with aggravated assault, and sometimes he or she faces charges of both attempted homicide and aggravated assault.  An aggravated assault defense attorney can help you understand the nuances.
When Does a Shooting Count as Attempted Murder?Except in very limited circumstances, shooting another person is against the law, even if it is an accident.  If the shooting was intentional, the shooter will almost always face charges of aggravated assault.  "Assault" is a general term referring to crimes of physical violence.  Assault becomes aggravated assault if the attacker inflicted or intended to inflict serious injuries; using a deadly weapon like a firearm certainly counts as aggravated assault.
The crime only qualifies as attempted homicide if the attacker intended to kill the victim.  As in all criminal cases, the standard of proof is "beyond a reasonable doubt."  Because it is impossible to know for certain what another person is thinking, the prosecution must present very strong evidence that the attacker wanted to kill the victim.  For example, such evidence might include the attacker's threats in the form of text messages or social media posts, or they might include search terms such as "how to shoot to kill" in the attacker's web browser history.
In the News
In March 2019, Chris Williams, 53, got into an argument with a group of teenagers at a movie theater in North Franklin Township during a screening of the movie Us.  The fight between Williams and the teens turned violent, and eventually Williams took out his gun, and one of the teenagers suffered a non-fatal gunshot wound to the leg.  According to witness statements, the gun may have discharged accidentally; Williams may have taken out the gun simply to intimidate the young men, which is still against the law in most instances.  In early May, Williams was arrested, but was released on bail.  Prosecutors determined the charges to file, including aggravated assault, based on witness statements and an audio recording of the incident, which a moviegoer captured on her cell phone.
Contact Gary E. Gerson About Aggravated Assault Cases
The law recognizes that incidents of violence vary in the seriousness of the injuries they cause and in the criminal intent exercised by the attacker.  Contact Pittsburgh aggravated assault lawyer Gary E. Gerson to discuss your case if you are facing charges related to injuring someone.
Resource:
pittsburgh.cbslocal.com/2019/05/02/washington-county-movie-theater-shooting-arrest-chris-williams/