Confrontation Over All-Terrain Vehicle Leads to Shooting, Arrest for Attempted Murder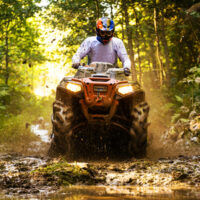 Online classified ads make it possible to find used vehicles for sale much more quickly, less expensively, and with less hassle than you would be able to by going to a dealership.  There is always some risk in these informal transactions, though.  If the worst thing that happens is that you get scammed, you might have dodged a bullet.  Abductions, sexual assaults, and murders have begun when the perpetrator lured the victim by placing an ad on Craigslist, Facebook, or some other venue for classified ads.  In this week's news story, the trouble began when one man sold an all-terrain vehicle to another under informal circumstances, and then things went from bad to worse.  If you are facing criminal charges because of a fight that got out of control, contact a Pennsylvania violent crimes defense lawyer.
A Shooting Is Not Just a Shooting
When someone fires a gun, it can end up with any of a variety of legal consequences, depending on the circumstances.  If you fired the weapon in self-defense, you might not get any criminal charges at all, even if injuries or fatalities were involved.  An accidental shooting might get you charges related to criminal negligence, or perhaps manslaughter if someone dies.  What happens if you shoot someone and injure them?  Where is the line between aggravated assault and attempted murder?  In this case, intentions matter.  If the defendant threatened the victim before shooting him or her, there is evidence that the defendant intended to kill the victim.  Otherwise, it is probably aggravated assault.
In the News
On May 6, Matthew McNeill of Lindley sold an all-terrain vehicle to Lewis Nagy of Tioga.  Within hours of selling the vehicle, McNeill discovered that it was stolen property.  He called and texted Nagy repeatedly but got no response.  On May 7, McNeill and three friends went to confront Nagy at his trailer.  Nagy answered the door with a shotgun loaded with birdshot.  McNeill started back toward his car, and Nagy threatened to shoot and kill him unless he stood still.  McNeill kept walking, and Nagy opened fire, striking McNeill in the upper arm.  McNeill and his friends got into the car and drove to a gas station in Lawrence Township, where they called 911.  McNeill was airlifted to a hospital; he was in critical condition by the time the Star Gazette reported on the story.  Nagy faces two counts of simple assault, two counts of aggravated assault, and one count each of attempted murder, making terroristic threats, and reckless endangerment of another person.  He is being held without bail in the Tioga County Prison.
Contact an Attorney Today for Help
If you are facing criminal charges for using a firearm, even though you are sure that you have bought and used the weapon in legal ways, you need a Pennsylvania criminal defense lawyer to stand up for your rights.  Contact Pittsburgh violent crimes lawyer Gary E. Gerson about your case.
Resource:
stargazette.com/story/news/public-safety/2020/05/07/tioga-pa-man-charged-attempted-murder-after-shooting-incident/3087185001/
https://www.pittsburghdefenselawyers.com/it-is-against-the-law-to-leave-your-car-unattended-when-warming-it-up/