Cumberland County Man Faces Criminal Charges For Financial Abuse Of Elderly Family Member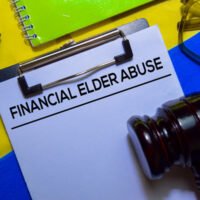 The past two years have seen most families around the country endure a sustained period of financial hardship, and areas that were already struggling financially before the COVID-19 pandemic have suffered the most.  While economic necessity can bring out the resilience and resourcefulness in people, when life gives you a steady stream of lemons, one can only tolerate so much lemonade.  Multi-generational households are on the rise, as working-age adults and their elderly parents need each other financially.  While this situation sometimes promotes family unity, it can also bring out the worst in family relationships, such as domestic violence and using money as a weapon.  If a family member has ever denied you control of your own money, forbidden you to seek employment so they could control you, or threatened to stop supporting you financially when you were unable to work because of your age or disability, then you know that financial abuse.  Family law courts tend to view financial abuse of family members as a gateway drug to physical violence, but criminal courts categorize most instances of it as financial crimes.  If you are being accused of defrauding or stealing from an elderly family member, contact a Pittsburgh theft crimes lawyer.
Elder Abuse and Pennsylvania Law
Elderly people, especially those who are in poor health, are vulnerable to physical, emotional, and financial abuse by family members and non-family caregivers.  Seniors are especially vulnerable to fraud and financial scams.  They may believe scammers' lies and spend their money simply because they are lonely and are willing to drain their life's savings to have a friend.  This type of thinking, as well as other poor financial decisions, can be an early symptom of dementia.  The penalties for stealing from or defrauding an elderly person or any other adult who requires care because of a health condition can be even more severe than the penalties for committing similar crimes against less vulnerable adults.
In the News
This month, David Bilbay of Cumberland County was arrested after police obtained evidence that he had stolen nearly $88,000 from a family member that news reports described as elderly and care dependent.  The reports did not specify Bilbay's exact relationship to the victim, only that they are members of the same family; they also did not say how many transactions added up to the $88,000, when these transactions took place, or how Bilbay obtained the money from the victim.  Bilbay is facing charges for financial exploitation of an elderly or care-dependent adult, theft by deception, theft by unlawful taking, and failure to deposit funds entrusted to him.  He was booked into jail on August 5, and his bail was set at $25,000.
Contact Gary E. Gerson About Theft Crimes Defense
A drug crimes defense lawyer can help you if you are facing charges for stealing money from an elderly family member or other financially vulnerable person.  Contact the law offices of Gary E. Gerson in Pittsburgh, Pennsylvania about your case.
Sources:
wgal.com/article/cumberand-county-caretaker-accused-of-stealing-money-from-elderly-family-member/40857871#
cumberland.crimewatchpa.com/da/5591/post/man-charged-exploitation-care-dependent-person-and-related-charges