Drug Cases Involving Schools Or Students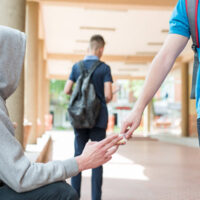 School is where most of us first heard of drugs.  After a lesson in which a teacher who could only be described as middle-aged by the most charitable of interlocutors told you that cannabis is also known as marijuana, pot, and reefer, you may have noticed, as you were leaving school that afternoon, that there was a "drug-free zone" sign posted on the front door.  Of course, by the time you were in high school, it was obvious to everyone that designating your school as a drug-free zone was wishful thinking.  From a legal standpoint, those "drug-free zone" signs are not quite as toothless as the "say no to drugs" messages on the insides of the opening flaps of cardboard boxes of Lemon Head candies that you buy at the gas station.  The penalties for some drug crimes in Pennsylvania are more severe when those crimes occur in or near a school than when they occur somewhere else.  If you are being accused of selling or delivering drugs in or near a school, contact a Pittsburgh drug crime lawyer.
Pennsylvania Drug-Free Zone Laws
All 50 states and the District of Columbia have "drug-free zone" laws on the books.  These laws increase the penalties for drug trafficking and similar drug offenses when these crimes occur in places where children are likely to be present.  Pennsylvania applies its drug-free zone laws when the drug offense takes place within 1,000 feet of a school or playground or within 250 feet of a school bus.  A conviction for selling drugs in a drug-free zone carries a mandatory two-year prison sentence.  The enhanced sentence only applies if the incident that occurred in or near a school or other drug-free zone was drug trafficking or the sale, delivery, or possession with intent to deliver.  You do not get enhanced charges for a drug-free zone in simple possession cases.  Drug-free zone laws in other states are much broader and more punitive in some other states than in Pennsylvania.  For example, in Florida, the penalties apply for drug crimes that occur within 1,000 feet of any drug-free zone, a category that includes not only schools and playgrounds but also universities, public housing facilities, and 24-hour convenience stores.
In the News
In March 2023, police in Newberry Township arrested a student on suspicion of selling drugs at Red Land High School.  The student allegedly had a firearm, $10,000 in cash, and $10,000 in illegal drugs in his possession at the time of his arrest.  News sources did not release the student's name or age, but they indicated that he is a minor.  If the student is charged as an adult, the drug-free zone laws could apply in his case.  If he is not, then his case will go through juvenile court and, even if adjudicated delinquent, he will not serve time in state prison.
Contact Gary E. Gerson About Drug Crimes
A criminal defense lawyer can represent you in criminal court if you are being accused of selling or delivering illegal drugs in a school or other drug-free zone.  Contact the law offices of Gary E. Gerson in Pittsburgh, Pennsylvania about your case.
Source:
abc27.com/local-news/york/police-arrest-drug-dealer-in-york-county/