Voting Rights In Pennsylvania After A Criminal Conviction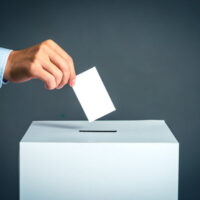 Loss of voting rights is one of the consequences of a felony conviction, but each state has its own laws about the procedure for restoration of voting rights for people convicted of felonies after they have completed their sentences.  Pennsylvania puts up fewer obstacles than some other states with regard to restoring citizens' right to vote after serving a sentence for a felony.  Before you cast a vote, though, you should make sure that you have fulfilled all the conditions for restoring your voting rights, because voting in an election where you are ineligible to vote results not only in your vote not being counted for that election but also in further suspension of your right to vote.  A Pittsburgh criminal defense lawyer can help you avoid losing your voting rights or seek a plea deal that would enable you to restore them as soon as possible.
Pennsylvania Restores Voting Rights After Your Incarceration Ends
In Pennsylvania, the loss of your voting rights lasts only as long as your prison sentence for a felony.  Once you are released from prison, you can head straight to the polls.  These are some situations in which you are eligible to vote in Pennsylvania when you have a current or previous criminal case against you:
All of the crimes of which you have ever been charged are misdemeanors. This rule applies even if you are currently in county jail for a misdemeanor conviction.
You are enrolled in a pretrial diversion program, such as drug court.
You are awaiting trial after being charged with a misdemeanor or felony. This rule applies even if you are being detained in jail while your case is pending, even if you are being held without bail.
You are on probation for a misdemeanor or felony.
You are on parole after serving a prison sentence for a felony conviction.
You are serving a home detention sentence.
If you are unable to report to the polls to vote because you are on home detention, in jail, or serving your parole in a halfway house, you may vote absentee.
In the News
Pennsylvania has a relatively high percentage of registered voters.  89.2 percent of adult Pennsylvanians who have U.S. citizenship are registered to vote.  The percentage of registered voters varies greatly by county, though.  In Allegheny County, 90.5 percent of adults who are eligible to register to vote have done so.  More than 98 percent of eligible voters in Bucks County and Chester County are registered.  Forest County has the lowest percentage of registered voters, at only 48 percent.  One of the main reasons for this is that inmates at the SCI Forest State Penitentiary comprise a large segment of the population, and people who are currently serving sentences in state prison are ineligible to vote.
Contact Gary E. Gerson About Criminal Defense
A sex crimes defense lawyer can help you fight your charges or seek a plea deal in order to eliminate or minimize the interruption of your voting rights.  Contact the law offices of Gary E. Gerson in Pittsburgh, Pennsylvania about your case.
Sources:
mcall.com/news/elections/mc-nws-primary-election-voter-registration-20220404-jjoir2l3efgofheii3n2ns3mse-story.html
vote.pa.gov/Register-to-Vote/Pages/Convicted-Felon,-Misdemeanant-or-Pretrial-Detainee.aspx