"Return To Sender" Conspirator Pleads Guilty After Chartering Private Plane To Transport Drugs From Houston To Pittsburgh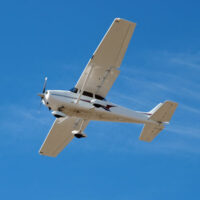 Transporting drugs in private planes is practically a cliché.  How many movies show the protagonists going from rags to riches in the drug trade and then traveling by private plane?  How many times have you seen a private plane in a music video and inferred that it was meant to be the site of a drug-fueled party?  Planes full of drugs occur more often in fiction than they do in real life, but in 2020, a privately chartered plane landed in Pittsburgh with six kilograms of cocaine onboard.  The plane full of cocaine was part of a larger drug trafficking conspiracy, in connection to which 47 defendants were eventually arrested and faced criminal charges.  This week, one of them pleaded guilty for his role in the conspiracy.  If you are facing criminal charges for your alleged role in a drug trafficking conspiracy, contact a Pittsburgh felony drug charge lawyer.
Operation Return to Sender Transported Drugs to Three Pennsylvania Counties
In 2019, the Drug Enforcement Administration (DEA) became suspicious that a complex organization was trafficking cocaine, methamphetamine, and firearms from California to Western Pennsylvania.  The eastern terminus of Operation Return to Sender, as the DEA called the network, was Allegheny, Clearfield, and Jefferson Counties.  Thus began a two-year wiretapping operation, at the end of which the DEA had enough evidence to arrest 47 defendants.  The defendants, most of whom live in Pennsylvania, but some of whom are residents of Ohio and Texas, were indicted in August 2021.  The defendants range in age from the early 20s to their 50s.
In the News
In October 2020, Adrian Alvarez and several conspirators in the Return to Sender drug trafficking operation chartered a private airplane and flew from Houston to Pittsburgh.  The WPXI news site does not name the other people onboard the plane, but the Department of Justice press release about Alvarez's indictment says that Jesus Gonzalez and Yusuf Adekunle were indicted with him in connection to the same incident.  Onboard the plane with Alvarez and the other defendants was some extraordinarily valuable cargo, namely six kilograms of cocaine.  In August 2021, Alvarez was charged with possession of more than 5 kilograms of cocaine with intent to distribute.  The charge carries a minimum sentence of ten years in prison and a maximum sentence of life in prison; the court can also order Alvarez to pay a fine of up to $10 million.  In April 2022, Alvarez, 28, pleaded guilty to the charge.  His sentencing hearing has been scheduled for August 2022.  It is unlikely that he will receive a life sentence, because defendants who plead guilty usually do not receive the maximum sentence.
Contact Gary E. Gerson About Felony Drug Crimes Defense
A drug crimes defense lawyer can help you if you are being accused of conspiracy to manufacture, sell, or transport cocaine or other illegal drugs.  Contact the law offices of Gary E. Gerson in Pittsburgh, Pennsylvania about your case.
Sources:
wpxi.com/news/local/man-pleads-guilty-transporting-6-kilos-cocaine-private-plane-houston-pittsburgh/JGCWM7ZG4BCGVK7WTR2NOSKAII/
justice.gov/usao-wdpa/pr/coordinated-law-enforcement-effort-dismantles-california-western-pennsylvania-drug