Westmoreland County Doctor Convicted of Four Counts of Drug Distribution but Acquitted of Other Charges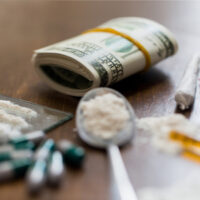 When a defendant is on trial for multiple offenses, the jury must decide about each one independently of the others.  Imagine that Mrs. Peacock calls the police to report her candlestick stolen, and she alleges that Professor Plum stole it.  The police search Professor Plum's house, and they find a variety of items that they suspect are stolen.  He is charged with five counts of theft (for stealing the candlestick, wrench, lead pipe, dagger, revolver, and rope) and one count of illegal possession of a firearm (revolver); he pleads not guilty to all the charges.  At trial, Professor Plum's lawyer shows several exhibits, including a license to possess a firearm, a picture of the defendant purchasing brandishing his newly purchased dagger at the Renaissance Fair, and a receipt from Home Depot showing the purchase of a lead pipe and a rope.  Col. Mustard, a witness for the defense, testifies that he is the owner of the wrench, and he let the defendant borrow it.  Therefore, the jury finds Prof. Plum guilty of stealing Mrs. Peacock's candlestick but not guilty of all the other charges.  If you have been charged with one or more criminal offenses, contact a Pennsylvania criminal defense attorney.
When Doctors Get Accused of Prescription Drug-Related Crimes
Only doctors and nurse practitioners can prescribe drugs, and only pharmacists can dispense them, so anyone else who gives or sells prescription drugs to another person is obviously breaking the law.  As millions of Americans have suffered from addiction or overdose of prescription opioids, some doctors have faced criminal charges for their role in the crisis.  Of course, it requires a certain level of medical expertise to make an informed judgment about whether the doctor's actions were within the standard care or whether they constituted negligence or, even worse, a crime. Every decision about a patient's care requires the doctor to weigh risks and benefits.  A famous case of this issue is William Hurwitz, the Virginia doctor who faced criminal charges for many incidents in which he prescribed high doses of opioids to many patients.  The jury considered each patient's case independently and pronounced a guilty verdict only with regard to the handful of patients whom Hurwitz should have known planned to sell the pills.
In the News
Dr. Felix Brizuela of Penn Township practiced medicine at several medical offices and a drug treatment center, all in West Virginia.  He faced criminal charges for ten prescriptions he wrote for the highly addictive opioids oxycodone, fentanyl, and oxymorphone.  He was charged with 21 counts of illegally distributing controlled substances.  A jury found him guilty of 15 counts, determining that those prescriptions did not serve a legitimate medical purpose, but they acquitted him on six other counts, because those prescriptions did serve a medical purpose.  He was also acquitted of anti-kickback charges.  He has been sentenced to four years in prison.
Contact an Attorney Today for Help
Either through acquittal or a plea deal, you might find that only a fraction of your charges actually lead to a sentence.  Contact Pittsburgh drug crimes attorney Gary E. Gerson about your drug case.
Resource:
triblive.com/local/westmoreland/penn-twp-doctor-sentenced-to-4-years-in-prison-for-illegal-distribution-of-opioids-in-west-virginia/
https://www.pittsburghdefenselawyers.com/ross-township-man-arrested-with-duffel-bag-full-of-meth-paraphernalia/