What Pennsylvania Law Says About Hate Crimes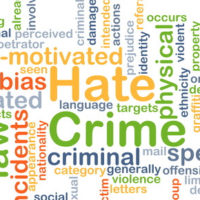 Pennsylvania has specific hate crime laws, which state that additional charges, such as ethnic intimidation, can be applied to enhance the penalties for violent crimes such as arson, homicide, murder, aggravated assault, recklessly endangering another person, risking a catastrophe, terroristic threats, or criminal mischief, when the violent acts are motivated by hatred of an ethnic or religious group.
Hate Is Not a Crime, but Attacking or Threatening Others Because of Hate Is
The First Amendment provides an absolute right to freedom of speech and protects almost any expression of one's personal beliefs, regardless of how hateful. It is not illegal to hold a grudge, have enemies, or be antisocial; nor is it illegal to speak or write about one's cynical or jaundiced views in a public forum. However, conduct that involves harassment, threats, or results in physical harm to others is criminal. When hate is the motivating factor for committing a violent crime, the maximum penalties increase dramatically. Section 2710 of the Crimes Code in Pennsylvania includes the term "ethnic intimidation", which is defined as committing or threatening to commit illegal acts of violence based on racial motivation. In other words, any violent crime committed against a person or property can be considered a hate crime if it is motivated by hatred toward a victim or victims based on their race, religion, or national origin.
In the News
In the wake of the shooting at the Tree of Life synagogue in the Squirrel Hill section of the City of Pittsburgh, Robert Bowers was federally indicted on 29 charges, including 11 counts of using a firearm to commit murder and multiple counts of two specific hate crimes: obstruction of exercise or religious beliefs resulting in death and obstruction of exercise of religious beliefs resulting in bodily injury to a public safety officer. Bowers surrendered to authorities after a shooting rampage that resulted in the death of 11 elderly worshipers and injured two police officers and two SWAT officers. Social media postings by Bowers in the months and even minutes before the mass shootings expressed a virulent hatred toward Jewish people; therefore, his antisemitic written expressions will certainly be emphasized by federal prosecutors, who are seeking the death penalty.
Let Us Help You with Your Case
The U.S. Constitution and that of the Commonwealth of Pennsylvania guarantee that all persons accused of crimes, regardless of motivation, are entitled to both a presumption of innocence and a heavy burden on the government to prove guilt beyond a reasonable doubt. If you have been charged with a crime, no matter how atrocious, contact our Pittsburgh criminal attorney at the Law Offices of Gary E. Gerson for a free and thorough case analysis.
Resources:
phrc.pa.gov/Resources/Pages/Hate-Crime.aspx
cnn.com/2018/10/27/us/pittsburgh-synagogue-active-shooter/index.html
/plea-deal-no-longer-an-option-for-school-van-driver-charged-with-sexually-assaulting-student/