Yes, You Can Get A Prison Sentence For Failing To Register Paperwork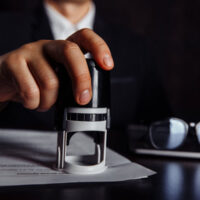 A man goes to prison because he did not file a form that he was supposed to file.  It sounds like a nightmare out of Kafka's imagination, but it can happen right here in Pennsylvania.  For example, you can get criminal penalties for failing to file an income tax return, but most of the time, those penalties do not include prison time unless your failure to file your taxes was only one of the things you did wrong.  Case in point, no one goes to prison if, even though they didn't file a tax return by October, they estimated in good faith how much they would owe on their income taxes and sent that amount to the IRS.  If you fail to register as a sex offender after the court orders you to do so, however, a prison sentence is a very real possibility.  If you are facing criminal charges for failure to comply with court orders after a conviction for a sex-related crime, contact a Pittsburgh sex crime lawyer.
Why Are the Penalties So Harsh for Failing to Register as a Sex Offender?
For most sex crimes, part of the sentence involves registering as a sex offender, which means that your name will appear on a publicly searchable list of people in your area who have been convicted of sex crimes.  How long you will be required to keep your sex offender registration status active depends on the severity of the crime.  The most severe sex crimes, such as rape or sexual abuse of minors, require people convicted of these crimes to remain on the sex offender registry for life.  Every time you move to a different state after a sex crime conviction, you must add your name to the sex offender registry in the new state to which you have moved.  If you do not do this, you can be convicted of failure to register as a sex offender.  The penalties can be harsh because, by definition, everyone who must register as a sex offender already has a criminal record.
In the News
In 2012, Leon McGirt pleaded guilty to aggravated sexual assault of a minor; the crime and the criminal case took place in New Jersey.  Pursuant to the Sex Offender Registration and Notification Act, he is required to register as a sex offender in any state where he resides.  In 2018, McGirt completed his sentence and was released from prison.  He subsequently moved to Pennsylvania, and after moving here, he did not add his name to the Pennsylvania sex offender registry.  In February 2022, he pleaded guilty to failure to register as a sex offender.  McGirt, 45, could face a prison sentence of up to ten years and a fine of up to $250,000.
Contact Gary E. Gerson About Felony Sex Crimes Defense
A sex crimes defense lawyer can help you if you are being accused of failure to register as a sex offender.  Contact the law offices of Gary E. Gerson in Pittsburgh, Pennsylvania about your case.
Source:
justice.gov/usao-wdpa/pr/pittsburgh-man-admits-he-failed-register-sex-offender