Yes, You Can Get Criminal Charges For Kidnapping Your Own Child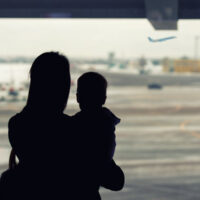 Kids can be a handful, but nothing is worse than being separated from your children against your will.  The worst thing about divorce is having the court dictate when you can and cannot spend time with your children.  While the possibility of receiving criminal penalties for failure to follow a court-ordered parenting plan is real, most threats from ex-spouses about sending you to jail over deviating from the parenting plan are empty.  If your children are in foster care, then you appreciate every minute of parenting time you have, if any.  The quest to be reunited with your children after they have been placed in foster care is arduous indeed, but attempting to take your children away from their foster parents without the court's permission always backfires, no matter how much the children wish to be reunited with you.  If you are facing charges for trying to spring your kids out of foster care without the court's permission, contact a Pittsburgh criminal defense lawyer.
Interfering With the Custody of a Child
Keeping a child away from the child's legal parent without the parent's consent or in violation of a court-ordered parenting plan is a crime under Pennsylvania law, namely the crime of interfering with the custody of a child.  Interfering with the custody of a child is a misdemeanor if you have a court-ordered parenting plan and you return the child to your ex-spouse late (but not more than 24 hours late) and you do not transport the child outside Pennsylvania.  If you are not a legal parent of the child or if your current parenting plan does not grant you any unsupervised parenting time, then interfering with the custody of the child is a second-degree or third-degree felony.  This means that, if you are a child's biological parent, but the court has placed your child in foster care, you can get felony charges for spending time with the child beyond what the court has allowed.
In the News
Darrick and Kayla Seachrist are the parents of 8-year-old Sara and 8-month-old Aria, but the children are currently in foster care.  In September 2021, Darrick, 30, and Kayla, 28, went to the foster parents' house and convinced Sara to come outside with her baby sister.  They then drove to Delaware with the children, where police caught up to them.  The children are back with their foster parents, while Darrick and Kayla are in custody in Delaware, pending their extradition to Delaware.  They are facing criminal charges for interfering with the custody of children and with the corruption of minors.
Contact an Attorney for Help Today
It is heartbreaking to lose some or all of your parenting time, but the way to get back together with your children is to work within the law.  A criminal defense lawyer can help you if you are facing criminal charges for not returning your children to your ex-spouse or to their foster parents at the time indicated in a court order.  Contact the law offices of Gary E. Gerson in Pittsburgh, Pennsylvania about your case.
Source:
dailyvoice.com/pennsylvania/berks/police-fire/lancaster-parents-captured-after-kidnapping-kids-from-reading-foster-home/816502/