Couple Arrested After Using Heroin In Car While 4-Year-Old Daughter Was In The Backseat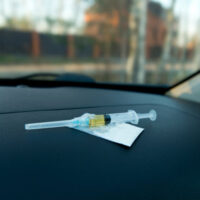 The percentage of people who think that drugs are always bad is becoming lower and lower, but almost everyone can agree that drugs are worse when children are present.  Likewise, even if it is harmless fun to consume alcohol or cannabis at a party and then dance the night away or sit on the couch and shoot the breeze, getting behind the wheel while under the influence of drugs, even alcohol or cannabis, is bad news.  Therefore, context matters in drug possession arrests.  Carrying a few unauthorized Xanax pills in your backpack while waiting for a bus at a bus stop gets you in less legal trouble than carrying those same Xanax pills in your backpack while driving or while walking your child to the bus stop to wait for the school bus.  You could get child endangerment charges in addition to the drug charges, even if the child does not get injured and did not know that drugs were present.  If you got arrested for drug possession, and a child was with you at the time of the arrest, contact a Pittsburgh drug crimes defense lawyer.
What Happens to Children When Their Parents Get Arrested for Drug Offenses?
Of all the things you can lose by getting convicted of drug possession, your relationship with your children is the most valuable.  If you get caught using or carrying illegal drugs while your children are present, Child Welfare Services will get involved.  If you and your ex-partner share custody of the children, your ex may get 100 percent of the parenting time, and you will have to rebuild your relationship with your kids almost from zero, starting with supervised parenting time.  It is also possible that another family member, such as your parents or your sibling, will get custody of the children until you have proven to the court that the children will be safe when living with you.
In the News
Several minutes after noon on November 1, Jacob Diperna drove his partner Heather Grimm to the gas station in Hempfield where she worked; their four-year-old daughter was sitting in the back seat.  Diperna and Grimm apparently used heroin in the car, and then Grimm went inside the gas station to begin her shift, while Diperna fell asleep in the driver's seat.  About an hour later, a relative of Grimm's went to the gas station convenience store to shop, and she noticed that Grimm appeared ill.  Grimm told her relative that the child was in the car, and the relative took the child home with her.  About half an hour later, troopers arrived and found Diperna still asleep in the car.  Grimm told the troopers that she and Diperna had bought heroin in Charleroi and used some of it before her shift; she surrendered the stamp bags that were in her pocket.  Diperna, 30, and Grimm, 28, were taken to the hospital and then to jail.  They are facing criminal charges for drug possession and child endangerment.
Contact an Attorney for Help
A Pittsburgh drug crimes lawyer can help you if you are facing criminal charges for using illegal drugs in the presence of a child.  Contact the law offices of Gary E. Gerson in Pittsburgh, Pennsylvania about your case.
Source:
yahoo.com/news/2-jailed-police-4-old-180400060.html