Scranton Doctor Pleads Guilty To Irresponsible Prescribing Of Opioids And Receiving Bribes From Drug Company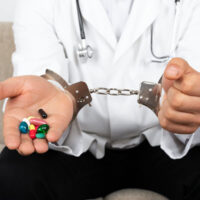 Anyone who has lived in western Pennsylvania during the past decade and a half has witnessed the devastating effects of the opioid epidemic in our region.  Changes to prescribing guidelines and crackdowns on "pill mills," clinics where doctors would prescribe huge quantities of opioid pills to virtually any patient who requested them, have changed the nature of the epidemic, such that many opioid pills and powders found on the street today have never passed through a legal pharmacy, but hundreds of thousands of people nationwide remain addicted to opioids.  Fentanyl, one of the strongest opioid drugs, has caused an increase in opioid-related deaths in the past several years; it is a schedule II controlled substance, available by prescription under very limited circumstances.  The defendant in this week's news story enriched himself by prescribing fentanyl to patients for whom it was not medically indicated and at doses much higher than what the medical establishment considers safe.  If you are being accused of mishandling controlled substances in the context of your job as a doctor or other healthcare worker, contact a Pittsburgh prescription drug crimes defense lawyer.
When Is Fentanyl Legal?
Fentanyl is approximately 100 times as potent as morphine, one of the first opioids to become available by prescription.  It is a schedule II controlled substance, often used for anesthesia and for rapid pain relief in emergency settings.  A sublingual form of fentanyl known as Subsys is approved for treatment of breakthrough pain in cancer patients.
In the News
Even before 2014, Kurt Moran prescribed more opioids than almost any other doctor in Pennsylvania.  Therefore, the makers of Subsys saw him as a like-minded person who would gladly prescribe Subsys off-label (meaning for purposes other than its legally approved purpose).  The drug company would invite Moran to expensive dinners and pay him thousands of dollars in bribes, and he would continue to prescribe Subsys off-label.  By 2017, he had prescribed millions of micrograms of fentanyl and received $140,000 in bribes.  Two patients had also died after taking Subsys he had prescribed to them; like most of Moran's patients, the victims had never been diagnosed with cancer.  In September 2020, Moran, now 69, received criminal charges for receiving healthcare kickbacks and unlawfully distributing controlled substances resulting in death.  In December 2021, he entered a plea of guilty.  The statutory maximum for the charges Moran faces is life in prison.  Defendants who plead guilty usually receive a sentence much lighter than the statutory maximum, especially if they cooperated with prosecutors throughout the investigation and have no prior criminal history.
Reach Out to an Attorney for Help
Almost anyone can end up with criminal charges for prescription drugs, including doctors near the age of retirement.  A Pittsburgh prescription drug crime lawyer can help you if you are facing criminal charges for illegally prescribing or dispensing prescription drugs.  Contact the law offices of Gary E. Gerson for help.
Sources:
justice.gov/usao-mdpa/pr/scranton-doctor-indicted-receiving-healthcare-kickbacks-and-unlawfully-distributing
justice.gov/usao-mdpa/pr/scranton-doctor-pleads-guilty-unlawfully-prescribing-controlled-substances-and-health