Latrobe Police and K9 Zeus Search Vehicle and Seize 10 Bricks of Heroin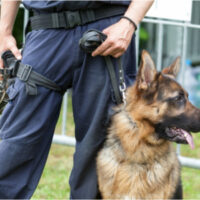 If the police find drugs in your possession, it does not automatically mean that you are guilty beyond a reasonable doubt.  Depending on the quantity of drugs found and on whether you have any previous convictions, you might be eligible for pretrial diversion instead of a conventional sentence.  If you do go to trial, a Pittsburgh drug crimes lawyer can use any of a number of defenses to argue that the court cannot convict you.
Anatomy of a Drug Bust
The police cannot just arbitrarily barge into people's houses and cars, looking for drugs and drug paraphernalia.  There must be probable cause for police to search a person's private property.  Probable cause can take the form of suspicious behavior, or it can take the form of a signal from a drug-sniffing police dog.  Defendants charged with drug crimes can argue that the evidence against them, namely the drugs or paraphernalia found in their possession, was illegally obtained; in other words, they can argue that the prosecution's case does not meet all the legal requirements.  If the defendant is successful in this argument, the court will not issue a verdict of guilty.
Tips from informants do not, by themselves, constitute probable cause.  Instead, when the police receive a tip, they begin to observe the defendant more closely, often from a distance, trying to catch him or her in an act that would constitute probable cause for a search.
In the News
Cherie Chapman of Derry, Pennsylvania will remain in prison until her trial unless someone can pot $100,000 bail for her.  She faces charges of heroin possession, drug paraphernalia possession, and manufacturing and delivery of a controlled substance, after police found ten bricks of heroin in her car.  The trouble began when an informant alerted the police of Chapman's plans to buy heroin in Pittsburgh and sell it in Latrobe.  On October 13, 2019, after Chapman had returned from Pittsburgh, police conducted a traffic stop on her car, on the pretense that they were looking for her passenger Mark Barger, who had a warrant out for his arrest relating to violation of the terms of his work release from prison.  The officer who conducted the traffic stop asked to search the vehicle, but Chapman refused to allow him.  He then called for a K9 unit, and Zeus the police dog sniffed around the outside of the car and gave the signal that he had detected a suspicious smell coming from the back-passenger side door.  The dog's behavior constituted probable cause for a search, and the officers searched the car, despite Chapman's protests.  In addition to the drugs, they found 500 glassine stamp bags marked "Nyquil."
Let Us Help You Today
A skilled criminal defense lawyer can help you if you get caught with drugs, even if it was with a lot of drugs and you are facing felony charges.  Contact the law offices of Gary E. Gerson if you are facing charges related to drug crimes.
Resource:
triblive.com/local/westmoreland/cops-tip-leads-to-arrest-of-woman-in-latrobe-on-drug-charges/
https://www.pittsburghdefenselawyers.com/woman-arrested-on-drug-charges-in-pittsburgh/