Northampton County Man Sentenced to Prison on Weapons Charges After a Series of Attempted Drone Strikes Near Ex-Girlfriend's House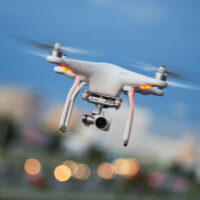 Unmanned aerial vehicles, popularly known as drones, experienced a surge in popularity when they became legally available for recreational use.  They were a popular gift item during the 2015 holiday season.  Perhaps some of the parents who scrambled to grab the last Tickle Me Elmo dolls from store shelves to give to their young children for Christmas in 1996 purchased drones online as Christmas presents for those same children, by then in their teens, in 2015.  Drones have the potential to provide hours of wholesome family fun; imagine a paper airplane or remote-control car, except that it takes beautiful aerial photographs of the natural environment.  Of course, consumer drones also carry the potential for misuse.  Most cases of illegal drone use involve using drone photography to invade other people's privacy by taking unauthorized photographs.  In late 2019, a Pennsylvania man was accused of attempting to bomb his ex-girlfriend's house by flying a drone over it and dropping homemade explosives.  If you are facing criminal charges for possessing a firearm or other weapon, contact a Pennsylvania weapons crimes defense lawyer.
When Is It Illegal to Possess Weapons, and When Is a Drone a Weapon?
You must obtain a permit before you can purchase a firearm, but the state cannot deny your permit without a good reason.  If you possess a gun but do not have a permit, you can get criminal charges for illegal possession of a firearm.  Even if you purchased your weapons legally, you can lose the right to possess them if you get a felony conviction, even if the offense of which you are convicted had nothing to do with guns.
As for drones, it is legal to purchase drones for recreational purposes, but you must register them.  Possession of an unregistered aircraft, including drones, is against the law.  It is also illegal to use drones for unauthorized surveillance or to commit acts of violence.
In the News
Jason Muzzicato, the owner of an auto repair shop was living in Washington Township with his mother and his adult son in June 2019 when agents raided his house.  In 2017, he and his girlfriend Cassandra Smith ended their three-year relationship, and his harassment and threats against her got so bad that she got a protective order against him; at his 2020 trial, she described him as a "monster."  The protective order specified that Muzzicato was no longer allowed to possess firearms, of which he had bought several after he received threats at home and at work.  The 2019 raid occurred when investigators connected the mysterious explosions that had happened near Smith's house on several occasions to two drones owned by Muzzicato.  Even more disturbing was that Muzzicato had apparently erased the drones' memory cards in order to cover his tracks.  Agents found five firearms in the house, but Muzzicato's son Colin claimed to be the owner of three of them.  At trial, Muzzicato was convicted of illegal possession of firearms and possession of unregistered aircraft.  He was sentenced to five years in prison.
Contact Us Today for Help
A Pittsburgh weapons charges lawyer can help you if you have been charged with illegal possession of a firearm.  Contact the law offices of Gary E. Gerson about your case.
Resource:
mcall.com/news/pennsylvania/mc-nws-pa-jason-muzzicato-bangor-bomber-sentence-20200925-zxpt3uvy6zb5fjjt74mw5oram4-story.html
https://www.pittsburghdefenselawyers.com/how-to-stop-mugshot-shaming-from-ruining-your-employment-prospects/