Philadelphia Doctor Who Operated Pill Mill Sentenced To 20 Years In Prison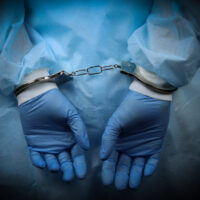 When kids go to the dentist, they come home with a bag of party favors, including toothpaste, toys, and stickers, as well as a balloon.  Even adults sometimes come home from dentist visits with freebies, although they are usually just toothpaste and dental floss, which are not much fun to use, but getting them free appeals to your frugal side.  In other medical subfields, the age of freebies has mostly come to an end.  Allergists used to hand out free samples of Claritin, but it is now available over the counter; besides, medications are so expensive these days that, even if it were not for the legal fallout from decades of widespread availability of potentially dangerous controlled substances, it would not be wise for doctors to hand out free samples of prescription drugs.  A Pennsylvania pain management doctor who, for years, routinely sent patients home with "goodie bags" of prescription drugs, apparently had ulterior motives.  If you work in the healthcare profession and are accused of breaking laws related to controlled substances, contact a Pittsburgh drug crime lawyer.
Irresponsible Prescribing of Opioids Was Just the Beginning
For years, Dr. Andrew Berkowitz operated a medical practice called A+ Pain Management in the Philadelphia area.  Like so many other pain clinics around the country at the beginning of the previous decade, it gained a reputation as a "pill mill," where anyone who wanted oxycodone, hydrocodone, or other prescription opioids could simply make an appointment, and Berkowitz would prescribe the drugs, with few questions asked.
Of course, the law eventually cracked down on pill mills, and that would have been enough to put Berkowitz out of business, but he managed to break the law even with patients who had not requested the most sought-after prescription opioids.  Berkowitz instructed the office staff to give every patient, regardless of the reason for their visit, an assortment of medications.  The "goodie bags," as the staff came to call these, contained the topical local anesthetic Lidocaine, plus an array of prescription drugs, including muscle relaxers like Chloroxazone, anti-inflammatories like Nalfon, opioid painkillers like Tramadol, and anti-anxiety drugs like Quazepam.  Nalfon and Quazepam are Schedule IV controlled substances.  He would then bill Medicare, Medicaid, and private insurance companies for all the drugs.
In the News
By the end of 2018, Berkowitz was in big trouble for all the false insurance claims, including not only the "goodie bag" drugs, but also billing the insurance companies for medically unnecessary physical therapy sessions, chiropractic treatments, and other interventions.  He faced civil penalties under the Federal False Claims Act, as a result of which he paid more than $1 million in damages and was barred from engaging with Medicare and Medicaid.  In January 2020, he pleaded guilty to healthcare fraud.  In May 2022, Berkowitz, 62, was sentenced to 20 years in prison; the court also ordered him to pay a $40,000 fine, plus $3.4 million in restitution.  It also ordered him to forfeit four real estate properties he had bought with the proceeds from his criminal activities.
Contact Gary E. Gerson About Drug Crimes Defense
A drug crimes defense lawyer can help you if you are facing criminal charges for irresponsible prescribing of controlled substances.  Contact the law offices of Gary E. Gerson in Pittsburgh, Pennsylvania about your case.
Sources:
justice.gov/usao-edpa/pr/doctor-who-pleaded-guilty-health-care-fraud-goodie-bags-agrees-resolve-civil-fraud-and
justice.gov/usao-edpa/pr/montgomery-county-goody-bag-pill-mill-doctor-sentenced-20-years-prison