Police Seize Suitcase Full of Drugs After Transaction in Front of New Stanton Motel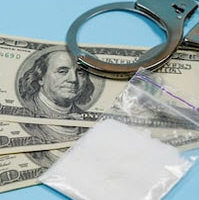 A criminal charge for drug possession, also known as "simple possession," usually means that the amount of controlled substance seized was only enough for a few doses; therefore, the prosecution assumes that the defendant intended to consume the drugs himself or herself.  When the amount is more than enough for one person to consume over the course of a few days, but there is no other evidence of manufacture, sale, or transport of the drug, the charges are usually for possession with intent to deliver.  An example would be if the police search a residence and find a gallon-sized zip-top bag with four ounces of what appears to be cocaine in a desk drawer, but they do not find any other signs of a drug trafficking operation.  You can only be charged with drug trafficking, delivery, or manufacture if the police find evidence of you engaging in those activities.  If you are facing charges for an incident involving a large quantity of a controlled substance, contact a Pittsburgh drug crimes defense lawyer.
Police K-9s Are Not Trained to Be Unbiased
Many arrests for drug delivery and transport are the result of K-9 searches of cars at traffic stops.  At trial, the prosecution may describe the traffic stop and search as completely fair, but often it is anything but that.  The police might pull your car over for a trivial reason, if not an entirely made-up one.  If they order a K-9 search, the dogs have been trained to respond to cues from officers, not just to recognize the scent of illegal drugs.  Violation of defendants' rights to due process are a common occurrence in drug cases involving K-9 searches of vehicles, and if your arrest resulted from such an incident, your lawyer may be able to find reasons that the charges are not valid.
In the News
On June 10, Jah Zhanee Sutton walked out the front door of the Fairfield Inn in New Sutton, carrying a red suitcase.  She placed the suitcase in the trunk of a car, which then drove away.  Police followed the car, but the driver, Devell Christian, quickly drove to the New Stanton Park and Ride and got out of the car.  Police asked him where he was going, and he gave contradictory answers.  The police then had a police K-9 search the car, and they found that the suitcase contained more than six pounds of cocaine and 300 bricks of heroin, enough for 15,000 stamp bags.  They arrested Christian, 31, who has previously served prison sentences for two drug convictions.  They returned to the hotel and arrested Sutton, 27, and a search of her room also yielded marijuana and an unmarked bottle full of unknown pills.  Both defendants are being held without bail.
Reach Out to an Attorney Today for Help
A Pittsburgh drug crimes lawyer can help you if you have been accused of illegal delivery or transport of a controlled substance.  Contact the law offices of Gary E. Gerson about your case.
Resource:
triblive.com/local/westmoreland/troopers-charge-allegheny-county-pair-after-1-million-cocaine-heroin-bust-in-new-stanton/
https://www.pittsburghdefenselawyers.com/eric-riddick-released-from-prison-29-years-after-wrongful-conviction/