Can You Get Arrested For DUI If You Are Asleep In A Parked Car?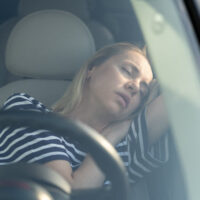 Everyone knows that driving drunk is dangerous and illegal, so what do you do when the bar closes and you are too drunk to drive home?  Even if your grandpa swears by black coffee and your college roommates were in the habit of eating a bacon and egg sandwich between Thirsty Thursday drink specials and Friday morning classes with mandatory attendance, the only thing that will cause your blood alcohol content (BAC) is the passage of time.  Therefore, if you had four drinks at the bar, it might seem like a good idea to sleep in your car until four hours have passed since you stopped drinking, but if you do that, there is no guarantee that you will not get arrested for DUI.  If you got arrested for drunk driving when all you did was drunk parking, a Pittsburgh DUI lawyer can help you.
Court Decisions About Drunk Parking Are Subjective
Can you be convicted of DUI when you were not driving?  It depends.  You can be convicted of DUI if you were in actual physical control of a motor vehicle when your BAC was above the legal limit, but the law is ambiguous about the definition of actual physical control of the vehicle.  If you are asleep in the driver's seat, and the car's engine is turned on, then police and jurors will assume that you were making every effort to drive, but you were too drunk to stay awake, and it is everyone's good luck that you fell asleep while the transmission was in park.  On the other hand, if you were asleep in the back seat or in the reclined front passenger seat, case law shows that this is not sufficient to convict you of DUI.  If you are not in the driver's seat, it should not matter whether the car's ignition is turned on; if the weather was cold, then having the car's ignition on does not count as evidence that you had immediate plans to drive.
In the News
Several news stories this year tell of sports personalities attracting the attention of police by sleeping in their cars after drinking.  In September 2021, Zachary Scott, the acting General Manager for the New York Mets fell asleep in his car at a traffic light in White Plains.  He was arrested and charged with DUI, as well as other misdemeanor charges.  In January, Nate Hobbs, a cornerback for the Las Vegas Raiders was asleep in his car in a hotel parking lot when police arrived.  He also faced charges for misdemeanor DUI.
Contact Gary E. Gerson About DUI Crimes Defense
You can be convicted of DUI even if the car was not moving at any time when police officers could see you.  A DUI crimes defense lawyer can help you if you are facing charges for drunk driving, or even for actions that legally count as DUI even though they do not technically involve driving.  Contact the law offices of Gary E. Gerson in Pittsburgh, Pennsylvania about your case.
Sources:
dailymail.co.uk/news/article-10365801/Raiders-rookie-Nate-Hobbs-22-arrested-DUI.html
hudsonvalleypost.com/da-new-york-mets-gm-found-sleeping-drunk-in-car-in-hudson-valley/