Elizabeth Borough Police Chief Charged with Stealing Heroin from Police Department Evidence Room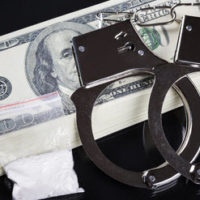 Even before the public awareness campaigns of the 1980s that attempted to scare young people out of using any kind of illegal drugs, heroin had a reputation as the scariest drug.  It was not only the drug's potency that led to its fearsome image, but also the dangerous circumstances associated with the lives of heroin users.  The drug's high cost, combined with the intensity of cravings users felt and the agonizingly painful withdrawal, meant that the public could easily imagine that people could resort to violence or prostitution in pursuit of heroin.
Today the public image of heroin addiction is somewhat different.  Many of the people arrested for heroin possession in the last few years first became addicted to prescription opioids and then turned to heroin when the prescription drugs on which they had become dependent became unavailable or prohibitively expensive.  The story arc of prescription opioids first, followed by heroin is part of the narrative of events that led to the arrest of a Pennsylvania police chief who is being charged with heroin possession, among other charges.  If you are facing drug possession charges, contact a Pittsburgh drug defense lawyer.
What the Law Says About Heroin
Heroin deserves its reputation as a dangerous drug.  More than 15,000 people died of heroin overdoses in the United States in 2017, a number that has been increasing since 202010, according to the Centers for Disease Control.  Heroin is a Schedule I controlled substance, which means that it is not legal to possess or use heroin under any circumstances.  (By contrast, cocaine is a Schedule II drug, as it can legally be prescribed as an anesthetic for use during eye surgery.)  Possessing less than a gram of heroin is a misdemeanor, whereas possessing any amount greater than or equal to one gram is a felony.
In the News
Tim Butler, the police Chief of Elizabeth Borough, faces criminal charges in connection to allegations that he stole heroin from an evidence room at the police department.  Butler had been in charge of the evidence confiscated from the scene of drug-related crimes, and on December 7, he confessed to a sergeant working under his supervision that he was struggling with drug addiction; he said that the problems began when he was prescribed opioids, but that he had begun using illegal drugs as well.  Butler hinted that drug evidence might be missing from the evidence room, and the sergeant notified his supervisors to begin an investigation.  They found that while all the heroin was missing from the evidence room, all the other drug evidence remained intact.  Butler was suspended from his duties and faces charges of theft and drug possession.
Contact Gary E. Gerson About Heroin Possession Cases
All defendants in criminal cases are presumed innocent until proven guilty. If you are facing drug charges, don't hesitate to contact the Law Offices of Gary E. Gerson in Pittsburgh for immediate assistance with your case.
Resources:
drugabuse.gov/related-topics/trends-statistics/overdose-death-rates
wpxi.com/news/top-stories/former-elizabeth-police-chief-charged-with-theft-drug-possession1/892080911
https://www.pittsburghdefenselawyers.com/woman-arrested-on-drug-charges-in-pittsburgh/