When a Cell Phone Becomes an Instrument of Crime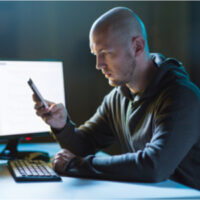 When is it a crime simply to have a phone in your possession?  It depends.  In general, almost anyone is free to have a phone.  You do not even have to have a license for it, like you do to buy a firearm or drive a car.  You do not even have to be an adult, like you do to buy alcohol.  In certain instances, though, police can charge you with a crime simply because you were using a cell phone at the wrong time or in the wrong way.  Distracted driving is one situation that comes to mind.  Meanwhile, judges have great flexibility to set the terms of a convicted defendant's probation, so if the judge decides that you are not allowed to have a cell phone while on probation, but the police catch you with one, you can be arrested for violating probation.  (Most judges don't take away your phone when you are on probation, but there are cases of nightmarish micromanaging by probation judges.)  If you use your phone to do something illegal, such as to make plans for a drug deal or exchange sexually explicit messages with a minor, then the act of using the phone can be a criminal charge in itself.  In some cases, sex crimes defense lawyers find themselves doubling as phone crimes defense lawyers.
What Is Possession of an Instrument of a Crime?
According to Pennsylvania law, possession of an instrument of a crime means that, at the time of the arrest, the defendant had an item that he or she was using to commit the crime or which the prosecution alleges that the defendant planned to use to commit the crime.  Just as possession of a weapon can be a separate charge from assault and possession of drug paraphernalia can be a separate charge from drug possession, you can get charged for possession of an instrument of a crime if the prosecution alleges that you were using your phone to commit a crime such as fraud, drug dealing, or statutory indecent assault.
In the News
In January 2020, Pittsburgh police conducted a prostitution sting, during which they arrested 10 people at a hotel.  They called phone numbers that they found on a website and, pretending to be clients soliciting prostitution, arranged to meet several women at the hotel.  Five defendants are charged with prostitution, two with promoting prostitution, two with soliciting prostitution, and two with unlawful possession of marijuana.  (Some of the defendants are facing more than one of the above charges.)  Most of them are also charged with possession of instruments of crime for using their cell phones to arrange meetings with sex workers or clients.
Contact an Attorney Today for Help
A skilled criminal defense lawyer can help you demonstrate to the jury that your phone calls, text messages, and selfies were for innocent purposes.  Contact Pittsburgh sex crimes attorney Gary E. Gerson about your sex-related offense case.
Resource:
triblive.com/local/pittsburgh-allegheny/10-charged-in-pittsburgh-prostitution-sting/
https://www.pittsburghdefenselawyers.com/pittsburgh-jury-finds-career-con-artist-guilty-of-identity-theft/